De Lauro to deliver inaugural Hamilton Lecture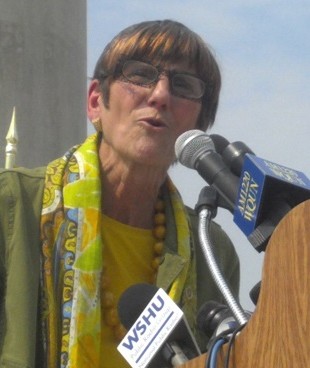 The Dona and Carol Hamilton Distinguished Lecture Series was established by Charles Hamilton, Professor Emeritus of Political Science, as an annual event hosted at the School of International and Public Affairs by the Department of Political Science to honor the life and work of his late wife, Dona, and daughter, Carol.

Befitting the goal of inviting distinguished speakers to address compelling topics on justice and fairness in our contemporary world, the inaugural speaker will be United States Representative Rosa L. DeLauro of the 3rd Congressional District of Connecticut. Rep. DeLauro's lecture is titled "The Politics of Helping Women, Children and the Vulnerable."
The lecture will take place Monday, March 4, 2019, in the Kellogg Conference Center, 420 W. 118th Street, 15th Floor, New York, NY. Refreshments will be available at 9:00 a.m. The lecture will begin at 10:00 a.m.
Rep. DeLauro serves in the Democratic leadership as Co-Chair of the Democratic Steering and Policy Committee, and she is the Chair of the Labor, Health and Human Services, and Education Appropriations Subcommittee, where she oversees out nation's investments in education, health, and employment. Rep. DeLauro also serves as a senior Democrat on the subcommittee responsible for the U.S. Department of Agriculture and the U.S. Food and Drug Administration—where she oversees food and drug safety—and on the House Budget Committee.
Soon after earning degrees from Marymount College and Columbia University, Rep. DeLauro followed her parents' footsteps into public service, serving as the first Executive Director of EMILY's List, a national organization dedicated to increasing the number of women in elected office; Executive director of Countdown '87, a national campaign that successfully stopped U.S. military aid to the Nicaraguan Contras; and as Chief of Staff to U.S. Senator Christopher Dodd. In 1990, Rep. DeLauro was elected to the House of Representatives, and she has served as the Congresswoman from Connecticut's Third Congressional District ever since.
Rep. DeLauro is married to Stanley Greenberg, Founding Partner of Greenberg Quinlan Rosner, a public issues research firm. Their children—Anna, Kathryn, and Jonathan Greenberg—all are grown and pursuing careers. Rosa and Stan have six grandchildren: Rigby, Teo, Sadie, Jasper, Paola, and Gus.