Current Students on the Job Market
Recent Graduates on the Job Market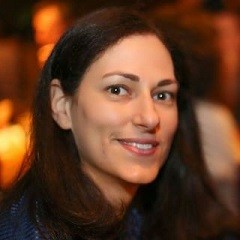 Hadas Aron
Hadas Aron is currently a Post-Doctoral Research Fellow at the Political Science Department at Tel Aviv University, and an Associate Research Scholar at the Saltzman Institute of War and Peace Studies at Columbia University. Hadas received her Ph.D. in political science from Columbia University in May 2017. She earned an M.A. from Columbia, and an M.Sc and a B.Sc from Tel Aviv University.

Hadas is a scholar of populism, nationalism, international security, political narratives, and democratization with a regional focus on Eastern Europe, the United States and Israel. Her book project, "Intimate Rivals or Enemies of the Nation: Radical Right Movements and Transformative Populism" explains the penetration of right wing populism into the mainstream and the variation in its transformative effect on political systems. Based on interviews and extensive archival work the research shows how long term center-periphery cleavages lead to the vulnerability of political systems to penetration and transformation by radical populists.  
Hadas was a Senior LEAD Teaching Fellow at the Columbia University Center for Teaching and Learning (2015-2017) designing and leading workshops on inclusive teaching and reflective teaching practices. Among the courses she taught are an originally designed course on social movements, and intense International Relation summer course based on active learning assignments. She was also a teaching assistant at Columbia in multiple courses including the graduate seminar, International Relations Theories; Democracy and Dictatorship in Europe; Introduction to International Relations; Introduction to Comparative Politics; and Scope and Methods in Political Science. 
In addition to her scholarship, Hadas participates in policy debates on her blog (http://www.commentingtogether.com/), as well as other publications such as Duck of Minerva, and the LSE USA blog.
Hadas conducted field research in Central Europe and Israel and was a visiting scholar at the Central European University and The Hungarian Academy of Science (2014). Her research was supported by The Harriman Institute for Russian Eurasia and East European Studies, Academic Exchange, and the Saltzman Institute of War and Peace Studies.
For more information, please see her website: www.hadasaron.com or email her at ha2284@columbia.edu.
---
Anthony M. Daniel
Anthony M. Daniel received his PhD in May 2017. His dissertation, From Wagner to Taft-Hartley, Revisited, analyzed the long-lasting impacts of state-level responses to labor unrest during the New Deal. Broadly speaking, research interests include American Political Development, labor politics, and political communication. Of particular interest are historical moments of large-scale civilian resistance. He received his BA from Bard College and hobbies include chess and fishing.
Michael Rubin
Michael Rubin is a Postdoctoral Scholar in the Center for Peace and Security Studies (cPASS) at the University of California, San Diego (UCSD). He earned a PhD (2018) in Political Science from Columbia University, specializing in International Relations and Comparative Politics.
Michael's research investigates the causes, conduct, and consequences of political conflict and violence. The research agenda explores three related research themes. The first examines belligerent conduct and civilian agency during civil war. Under what conditions do rebel groups seize and maintain territorial control, and what explains the decline of rebel control? Under what conditions do rebels provide governance to, and perpetrate violence against, civilians? How do civilians influence conflict processes? The second examines the causes and consequences of terrorism. Under what conditions do dissident groups resort to terrorism, and what are the consequences for conflict resolution and political stability? The third examines statebuilding and interstate conflict in the 21st Century. Under what conditions do states employ "gray zone" conflict strategies, and under what conditions do these strategies escalate to direct militarized conflict? Under what conditions do new sovereign states emerge, existing states collapse, and specific political entities capture the state apparatus over others? In addition to explaining political violence and its consequences, this research agenda contributes to understanding state formation and its failures, the nature of extra-institutional political competition between and within states, and the strengths and limitations of state-centric models of the international system. 
Michael's research has been published or is forthcoming in International Studies Quarterly and the Journal of Conflict Resolution and has been funded by the National Science Foundation (Law and Social Sciences Program), The Earth Institute, the Weatherhead East Asian Institute and the Center for Israel Education. Michael has conducted field research in the Philippines and has worked on dataset design and collection for the Terrorism in Armed Conflic (TAC) and Named Entities for Social Sciences (NESS) projects. For more information, and links to published and ongoing work, please visit his website: www.michaelarubin.com
Tinghua Yu
Tinghua Yu is currently a Postdoctoral Fellow at the London School of Economics and Political Science. She received her Ph.D. in political science from Columbia University in May 2018.
She uses formal theory and quantitative methods to study political economy of institution. Her research focuses on political selection, intrinsic motivation and authoritarian politics.
For more information, please see her website: https://sites.google.com/view/tinghua-yu