Giancarlo Doria Prize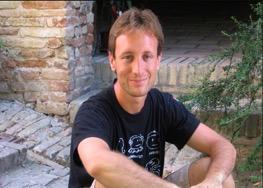 In memory of Giancarlo Doria, M.A. 2009, Antonietta and Francesco Doria and the Department of Political Science present an annual award for the best paper in any subject in political science submitted by a candidate for the Ph.D. in political science who has not yet received the M.Phil.
About Giancarlo Doria
Giancarlo Doria died on January 3, 2010, at the age of twenty-eight. After four months of stoic struggle, Giancarlo succumbed to the cancer that cut short a promising academic career and a life enlightened by keen intelligence, deep commitment to human relationships, and an insatiable desire to learn, understand, and share. He left behind his mother, Antonietta; his father, Franco; and his brother, Emanuele, who were by his side throughout his illness; as well as dozens of friends in Italy and the U.S., whose lives he enriched.
Giancarlo began his graduate studies in the Department of Political Science in September 2008 as a political theorist. He subsequently transitioned to comparative politics, focusing on political economy, comparative constitutional design, and federalism. He obtained his M.A. in political science from Columbia in 2009. Before coming to New York, Giancarlo worked for several years in the Italian parliament while pursuing a doctorate in political science at Università La Sapienza, Rome, where he studied philosophy and political science as an undergraduate. In addition, he regularly wrote for Federalismi, an Italian journal, on issues related to federalism and comparative constitutional law. In the year preceding his death, Giancarlo was working on a co-authored book project on bicameralism.
At Columbia, Giancarlo's colleagues, friends, and professors remember his warmth and energy, his generosity, his commitment to research, and his willingness to listen and to help. He remains a source of inspiration for those who sat in class and studied with him and even more so for those who saw the enormous strength and resilience of his character in the darkest days of his fight with cancer.